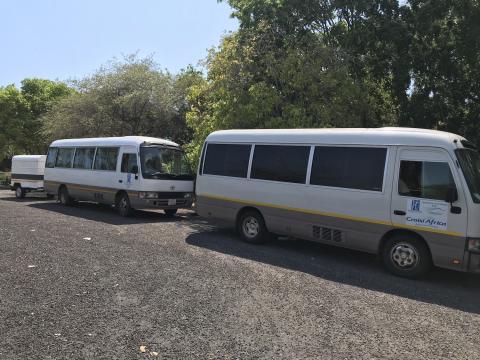 Email:
bookings@hersovtours.co.zw
Hersov Tours is based in Kariba and has vehicles stationed in Lusaka as well as Harare for the easy connection from the main international airports to the Zambezi Valley. All our Transfers are done with an experienced courier guide, and refreshments will be served on the long hull transfers.

We recommend landing in Lusaka for International guests, as this will be a shorter travel distance and less travel time compared to Harare or Vic Falls. The journey travel time from Lusaka to Kariba is generally 3.5 hours, and clients need to plan on landing in Lusaka very early to allow for safe travel time, any eventualities with luggage missing and flight delays as well as to catch up with the Boarder closing time given the traffic congestion late afternoon.

Alternatively we recommend to guests to plan on arriving in Kariba the day before and spend a night in one of the lodges and then get an early start the next day.

We also offer ground handling in and around Kariba and the Zambezi Valley through to Chirundu and Tsetse Gate.

On the local front we offer Kariba Village Tours, that runs for up to 2.5 hours and take guests to view The Lake from the Heights, Operation Noah, The St Barbara's Church as well as the Observation Point before proceeding to taking Guests to have a walk on the Giant Kariba Dam Wall.

Hot selling and of great interest to the international guests and those interested in the cultural tourism, we offer the Tonga Village Tours and these last up to 3 hours, and involve a drive to the village a cultural hearty welcome with drum beat and music but the villages and a talk on how they go about their daily lives ranging from what food they eat to how they pound their maize to make mealie rice and how they make porridge from baobab fruits.